Apr 21, 2014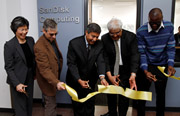 MILPITAS, Calif., April 21, 2014 – SanDisk Corporation (NASDAQ: SNDK), a global leader in flash storage solutions, today announced a $1 million donation to the College of Engineering at the University of California, Berkeley. The donation will fund recently completed renovations to Cory Hall, home of the College's Department of Electrical Engineering and Computer Sciences, and the undergraduate student Computing Lab, which has been renamed the SanDisk Computing Lab.
"SanDisk has been our valued partner on many fronts: providing scholarship and fellowship support and now making possible a cutting-edge computing facility for our students," said S. Shankar Sastry, dean and Carlson professor of engineering at UC Berkeley. "By supporting a public university that draws students from every stratum of society, SanDisk is advancing STEM education and preparing more engineers to lead economic growth."
"As a company built on a strong engineering heritage, SanDisk places a priority on making contributions that will help foster the education and growth of tomorrow's engineers," said Sanjay Mehrotra, president, chief executive officer and co-founder of SanDisk. "No doubt, the students that use these facilities will go on to have an incredible impact on our region, nation and world, and we're honored to contribute to the formative experience they will receive while at UC Berkeley."
The SanDisk Computing Lab was unveiled at a ribbon cutting ceremony on April 18, 2014, during which Mr. Mehrotra, a UC Berkeley graduate and member of the College of Engineering Advisory Board, met with students. Additionally, the donation will fund renovations to the main corridors of Cory Hall, as well as the acquisition and installation of up-to-date equipment and furnishings for facilities used by undergraduate and graduate students.
The announcement underscores SanDisk's ongoing commitment to furthering STEM education, and follows the recent announcement of recipients for the 2013-2014 SanDisk Scholars Program. The program provided more than $1 million in scholarships and grants to nearly 100 undergraduate and graduate university students in the United States to support their pursuit of degrees in a science, technology, engineering or mathematics discipline.
About the SanDisk Foundation
SanDisk's mission in its philanthropic efforts is to support programs and organizations that address the needs of communities where our company has a significant presence. SanDisk strives to be an exemplary corporate citizen within the global community. The SanDisk Foundation, a corporate advised fund of the Silicon Valley Community Foundation, helps carry out this mission by making donations to nonprofit organizations and community groups within key focus areas: K-12 education, promoting STEM-focused programs, and children's health and well-being. Since 2003, the SanDisk Foundation has awarded more than $25 million to almost 1,000 charitable organizations worldwide. The SanDisk Scholars Program, created in 2012, utilizes a $1.5 million annual budget to award scholarships to undergraduate and graduate students pursuing education and university research in STEM fields.
About SanDisk
SanDisk Corporation (NASDAQ: SNDK), a Fortune 500 and S&P 500 company, is a global leader in flash storage solutions. For more than 25 years, SanDisk has expanded the possibilities of storage, providing trusted and innovative products that have transformed the electronics industry. Today, SanDisk's quality, state-of-the-art solutions are at the heart of many of the world's largest data centers, and embedded in advanced smart phones, tablets and PCs. SanDisk's consumer products are available at hundreds of thousands of retail stores worldwide. For more information, visit www.sandisk.com.
---
© 2014 SanDisk Corporation. All rights reserved. SanDisk and the SanDisk logo are trademarks of SanDisk Corporation, registered in the United States and other countries. Other brand names mentioned herein are for identification purposes only and may be the trademarks of their respective holder(s).